"What is this, 121? "
The Internet Box had won the prestigious 2015 Podcast Award, thus giving the green light for a season 2.
Notable conversations
Edit
Mikecast was terminated under Twitch's policy. Probably from the 9/11 reenactment.
Mike has been confirmed to no longer be a virgin and has also seen boobs. He had also came upon his own face whilst sneezing. However, no permanent evidence has been acquired.
The Internet Box reflects the failure of My Little Panel.
Ray is now an LLC CEO of his own company to launder tax money.
Ray still is offering a bounty of $10,000.00 for video surveillance of Mike "eating shit" [knocking over a shelf during a meeting] in Best Buy.
Releasing
Edit
The release of Season 2 was pushed back several times. According to the Internet Box's website, Season 2 was planned to be most likely released in Autumn 2015. Later, According to Twitter, Season 2 was announced to premier in 2016. Finally, the podcast was given an exact date to release on January 25, 2016.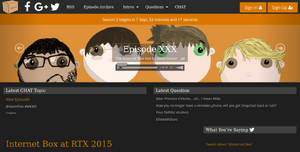 Link dump
Edit
Episodes
Season 1
Year 1
Year 2
Year 3
Community content is available under
CC-BY-SA
unless otherwise noted.